MISTAKES PARENTS MAKE WHEN CHOOSING A PLAYSCHOOL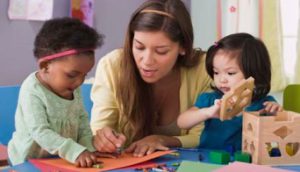 Thought you find the right playschool? Pining hard for opinions on which playschool is the best and ideal for your kids? Ending up empty-handed when searching relentlessly for the right playschool?
Well, fret not, because in this article Happy Cubs helps you find the right playschool by pointing out some of the most common mistakes made by parents looking for the right playschool:
Seeking word of mouth: Your friends' kids might be happy at their playschool and the kids next door might be having fun at theirs but this doesn't guarantee a great experience for your kids. Simple reason: experience is relative. When it comes to picking a playschool your instinct must come in and influence your decision.
Picking Methodology/Curriculum in haste: Refrain from choosing schools with curriculums which are excessively academics-centric and keep your focus on curriculums/methodologies which encourage a perfect combination of all kinds of activities. We at Happy Cubs follow the Montessori methodology which ensures that kids have their fair share of academics, extracurricular, entertainment, and other educational activities.
Not gauging teacher psychology: Most parents fail to take a look at a live class at a particular playschool they visit. This helps them understand the way teachers behave with kids, treat kids who are emotional, handle kids who are naughty, and help kids learn.
Failing to consider family requirements: Distance is a factor which is usually ignored while looking for a playschool. Parents who place their kids at playschools located miles away tend to face a lot of issues. As a parent, you must choose a playschool which is either close to your house or place of work so you can drop and pick your kids up on time.
Kids shouldn't be the only ones deciding: Kids, at their tender age, fail to look into the details and get carried away by a thing or two which appeals to them. As a parent, it's your responsibility to ensure that the playschool you are choosing ticks all those boxes and packs tons of promise.
Looking for a quirky, jolly, and colourful place for your little ones can bloom, learn, and grow? Reach out to us at Happy Cubs today!