HOW KITE FLYING HELPS KIDS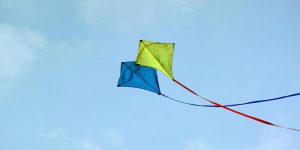 Kite season is on and the festivities are at fever pitch! It's that time of the year when you will see the sky peppered with funky colours and vivid designs. Your kids must be running around the house in excitement about finally getting the chance to fly a kite themselves. Apart from the fun quotient, there are a few reasons why you should make your kids fly a kite. Curious? Here we go:
Teaches them how wind works: When your kids are flying kites, they'll have to act according to the wind's direction and time their moves accordingly. So, it helps them understand wind dynamics at their tender age.
Shows them how to tackle problems: Kite flying isn't as easy as it sounds. A kite just doesn't lift off by itself in the presence of wind or stay afloat in the wind by default. It takes skill and understanding. When your kids' kites are having trouble in flying high, they will certainly figure out how to make it happen and it drills essential problem-solving skills into them.
Builds their concentration power: Flying a kite can get tiring because you can never take your hands or eyes off. It takes high levels of concentration for your kids to have a field day with their kites. These levels of concentration will automatically slip into their other activities that require focus.
Boosts their confidence: When your little ones successfully fly their kites and beat some of their own friends, their confidence goes sky high and keeps them upbeat for a long time. It's one of those feel-good factors which will certainly help them excel in other activities.
So, what are you waiting for? Pick up a few kites and watch your kids show how it's done! If you're looking for a quirky place where your kids can find more fun-filled activities like these, reach out to Happy Cubs today!